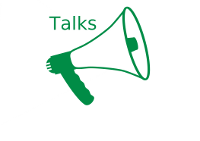 At Secular Women Work 2, you will find workshops: both hands-on exercises to develop your skills and facilitated group discussions where you can share challenges and solutions with other activists. You will find panels on specialist topics, with panelists who can help you broaden the horizons of your activism. And when you're ready for a rest, you'll find speakers who will entertain and inspire you with stories and lessons from their own work. In between it all, you'll find a conference full of other activists who want to make a difference in the world.
Mandisa Thomas: Black Non-Believers
Mandisa Thomas is the founder and President of Black Nonbelievers, Inc. Although never formally indoctrinated into belief, Mandisa was heavily exposed to Christianity, Black Nationalism, and Islam. As a child she loved reading, and enjoyed various tales of Gods from different cultures, including Greek and Ghanaian. "Through reading these stories and being taught about other cultures at an early age, I quickly noticed that there were similarities and differences between those deities and the God of the Christian Bible. I couldn't help but wonder what made this God so special that he warrants such prevalence in today's society," she recalls.

Mandisa has a number of media appearances to her credit, including The Atlanta Journal-Constitution, CBS Sunday Morning, CNN.com, and JET magazine. She has been a guest on podcasts such as The Humanist Hour and Ask an Atheist, as well as the documentaries Contradiction and My Week in Atheism. Mandisa currently serves on the Boards for American Atheists and the Reason Rally Coalition, and previously for Foundation Beyond Belief and the Secular Coalition for America. She also is an active speaker, and has presented at conferences/conventions for the Freedom from Religion Foundation, Secular Student Alliance, and many others.

As the president of Black Nonbelievers, Inc., Mandisa works to encourage more Blacks to come out and stand strong with their nonbelief in the face of such strong religious overtones. "The more we make our presence known, the better our chances of working together to turn around some of the disparities we face. We are NOT alone."
Greta Christina: The-Orbit

Greta Christina has been writing professionally since 1989, and has been writing about atheism since 2005. She is author of several books, including "The Way of the Heathen: Practicing Atheism in Everyday Life," "Comforting Thoughts About Death That Have Nothing to Do with God," "Coming Out Atheist: How to Do It, How to Help Each Other, and Why, and "Why Are You Atheists So Angry? 99 Things That Piss Off the Godless." She blogs at Greta Christina's Blog, at The Orbit, and is on both Facebook and Twitter.

She lives in San Francisco with her wife, Ingrid.
Jessica Xiao: Free Minds Book Club and Writing Workshop 

Jessica Xiao is a Washington, DC-based writer, interested in activist culture, radical vulnerability, feminism, race and identity, mass incarceration, and climate injustice. You can find her work at

Everyday Feminism

,

The Establishment

,

Huffington Post

,

TheHumanist.com

, and

Medium

.

She is the Prison Book Club Coordinator at Free Minds Book Club and Writing Workshop, a nonprofit serving incarcerated youth tried as adults. She is also a grant writer for Artistri Sud, a Montreal-based nonprofit providing social entrepreneurship and leadership development training to Indigenous women artisans.

Previously, she was a Community Facilitator for McGill University's "Social Learning for Social Impact" GROOC (massive open online course for groups) and the Marketing and Communications Lead for their environmental hackathon "On the Earth, For the Earth" at the 2016 World Social Forum.

From 2015 to 2016, Jessica was the Projects Assistant at the American Humanist Association, Operations Manager at Humanist Press, and Assistant Editor at TheHumanist.com. She is Co-Chair of the Feminist Humanist Alliance.

She holds a Bachelor of Arts and Science in Economics and Psychology from McGill University.

You can find her on Twitter @jexxicuh.
More details added as we progress!