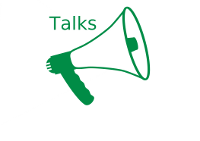 At Secular Women Work, you will find workshops: both hands-on exercises to develop your skills and facilitated group discussions where you can share challenges and solutions with other activists. You will find panels on specialist topics, with panelists who can help you broaden the horizons of your activism. And when you're ready for a rest, you'll find speakers who will entertain and inspire you with stories and lessons from their own work. In between it all, you'll find a conference full of other activists who want to make a difference in the world.
Mandisa Thomas: Black Non-Believers
Mandisa Thomas is the president and founder of Black Nonbelievers, Inc. She also has a new project called New Turn. From their website: "The focus is to provide help for ex-convicts, at-risk juveniles and individuals who are at a general education and economic disadvantage by developing critical thinking and practical instruction and skills, as well as maximize entrepreneurial capability." You can find out more about New Turn here.
Lauren Lane: Skepticon

Lauren Lane is the Founder and Executive Director of Skepticon, a national conference located annually in Springfield, MO that promotes skepticism, science education and community building. During her tenure as an undergraduate, Lauren held various leadership positions in the Missouri State University Chapter of the Flying Spaghetti Monster, a secular student group that revolutionized student activism. She has been a contributor to The Friendly Atheist, MadArtLabs, and has previously spoken at conventions such as the Secular Student Alliance Convention, FTBCon, and Reason in the Rock.
Desiree Schell: Science for the People
Desiree Schell runs the organizing department of Alberta's largest public sector union and is passionate about effective activism. In her interview for SWW she says:

I say this, and I don't mean to sound trite, but I think you can change the world.

Schell is the cocreator of "The Skeptical Activism Campaign Manual" and a host of the "Science for the People" radio show and podcast.
Steph Montgomery
Steph Montgomery, M.S. is a nonprofit and public sector professional with over 15 years of leadership experience related to public health, women's health and improving the lives of families living in poverty. Steph is a full time working mom to the two best kids on the planet. They live a happy secular life in Omaha, Nebraska. She currently serves on the Board of Secular Avenue and manages the advocacy program for a large domestic violence and sexual assault services agency. She is a contributing blogger at Grounded Parents and Godless Revolution. In her free time, she enjoys baking pies, training for half marathons and gardening.
Xandra Best
Xandra is a recent graduate of St. Olaf College with a B.A. in math and computer science. While she was there, she was president of her campus SSA group and a co-organizer of the SkepTech conference at the University of Minnesota. She currently works as a technical consultant in the Minneapolis area doing all manner of nerdy things, all while singing and dancing on a near-constant basis.
Miri Mogilevsky
Miri Mogilevsky recently graduated from Columbia University with a Masters in Social Work. Her blog, Brute Reason, covers topics such as social justice, psychology, mental health, and whatever else keeps her up thinking till

3 AM

. When not writing, Miri devours books and talks to anyone who's willing to listen about how amazing New York City is.
Heather Rosa
Heather was a trained support group facilitator for the non-profit Fellowship for Renewed Living, an organization that served people dealing with divorce or other broken relationships. She served on the FRL board for many years, including three as the organization's President. She has a long history in small-town politics, serving on her city council and as mayor for eight years. As her city's representative on the library joint powers task force, she managed to expand her local library system in a time when many systems were shrinking.
Amy Monsky
Amy Monsky is executive director of the Atheist Alliance of America. She is also president of the Secular Humanists of the Lowcountry in Charleston, S.C., and has been active on their board of directors since 2009, having served as family activities coordinator before being elected president in 2012. She also serves on the board of Camp Quest Inc., a summer camp geared toward children from non-religious families. Monsky founded Camp Quest South Carolina in 2011 and continues to be its director.
Heather Hegi
Heather is the current Secretary for Minnesota Atheists after having served the maximum term as its Chair. She was the youngest Chair in Minnesota Atheists' history and has consistently advocated for events and practices that make Minnesota Atheists accessible and appealing to people of all ages.
Hiba Krisht
Hiba Krisht is a writer, lecturer, and professional translator from Beirut. Her stories have been published in The Kenyon Review, Hayden's Ferry Review, Blackbird, and Mizna, among others. She is a recipient of the 2012 Jane Foulkes Malone Fellowship from Indiana University and the 2013 JoAnn Athanas Memorial Award in literature from the National Society of Arts and Letters. An apostate from Islam, she grew up between an international expatriate community in Saudi Arabia and Hezbollah guerrilla warfare culture in Lebanon. She has been interviewed about her life and work by VICE News, BBC Radio, and Grazia Daily, among others. She is working on a memoir expansion of her retired blog, Between A Veil and a Dark Place.
Debbie Goddard
Debbie Goddard is the director of outreach at the Center for Inquiry and the director of African Americans for Humanism. Before working for CFI, she participated in local freethought groups in the greater Philadelphia region and helped organize and support campus groups internationally as a volunteer. She has also been involved with LGBTQ issues and progressive activism.
Jennifer Beahan
Jennifer Beahan is Assistant Director of Center for Inquiry–Michigan. She was raised in a fundamentalist christian family and graduated summa cum laude from Cornerstone University with a Bachelor's of Music Education. While attending Cornerstone University she and her childhood sweetheart/best friend of 21 years, and husband for 11, Jeremy Beahan, came to see the light of reason and were introduced to philosophy and critical thinking. Jennifer and Jeremy became members of the Freethought Association of West Michigan, now CFI–Michigan in 2002 and have been actively involved in the organization ever since. In 2007 she was hired on as the first staff person, and since she began volunteering in 2003 she has helped to develop numerous programs, and expand the programming of CFI–Michigan from 3 events each month to over 20 events a month in 8 cities throughout Michigan. In 2014 she helped organize 300 events throughout Michigan! Her professional interests include volunteer management, program development and evaluation, secular activism, and women's rights. She holds a Bachelor's of Music Education (K-12), and in addition to her work for CFI she teaches private music lessons on piano and woodwinds. She also enjoys hiking/camping, gardening, and loves to cook.
Brianne Bilyeu
Whatever it takes to stand up for reproductive justice–clinic escorting, writing, lecturing, lobbying, bowling, or eating tacos–Brianne Bilyeu has done it. When she's not working tirelessly for access to reproductive medical care in all its forms, she blogs at Biodork and cohosts Atheists Talk, the Minnesota Atheists radio show. Despite all that, she sometimes still finds time to take photos.
Niki Massey
Niki Massey is a writer of queer smut and a disability advocate busy advocating for herself. She specializes in taking apart the rhetoric and behavior of anti-abortion activists to show what it isn't: pro-life, counseling, based in science or medicine, or advocating for women. Sometimes all she has is words, but she knows how to use them.
Ashley Miller
 Ashley F. Miller is a writer, activist, and communications scholar from South Carolina, who has worked for LGBT, secular, and women's rights for over a decade. She speaks regularly at schools and conferences across the country about feminism and communications. She has written for dozens of publications, including Salon, Freethought Blogs, and the academic journal CrossCurrents, and run local communications campaigns for law firms, news websites, and secular organizations. She is a PhD candidate in Mass Communications at the University of South Carolina, where she has focused on women and minorities in the media.  Before returning to school for her PhD, she worked in film and television in Los Angeles.
Haddayr Copely-Woods
Haddayr Copley-Woods is a scifi/dark fantasy writer, radio commentator, and essayist with pieces and performances in places such as Minnesota Public Radio, Apex, Story Club Minneapolis, Science Fiction & Fantasy, and Best American Erotica. Her radio commentaries, essays, and spoken-word performances cover disability issues, community, queerness, and politics, as does her column Bitter Butch at bitterempire.com. Learn more at haddayr.com.
Olivia James
Olivia James is a writer and communicator with a passion for all things social justice. She works at the Autism Society of Minnesota half of the time and writes at 22 Words, We Got So Far To Go, and Skepchick the other half of the time. If asked about anything related to mental health, Olivia will not shut up for a very long time. When not writing and caring too much, Olivia rock climbs, swing dances, and plays D&D.
Phyllis Kahn
Phyllis Kahn is the Minnesota State Representative for district 60B, which includes the University of Minnesota's Minneapolis campus. She's had a long and distinguished career in the House, including authoring Minnesota's Clean Indoor Air Act, which was the model for most of the public smoking bans that followed. In recent years, Rep. Kahn has sponsored Minnesota Atheists' bill to permit atheist and secular humanist groups to designate their own marriage officiants. She has also spoken for the last several years at the Day of Reason events at the state capitol.
Elsa Roberts
Elsa Roberts is the Communications Lead at Urban Impact Lab and Vice President of Secular Woman, and thinks a lot about access, equity, logic, walkability, and how to streamline and clarify messaging and design. Her writing has appeared in blogs that no one has heard of. Elsa has an MS in Rhetoric and Technical Communication and is currently trying to forget the trauma of grad school. She is obsessed with British murder mysteries and adult coloring books.
Trinity Aodh

Trinity Aodh is a 25 year old transgender woman. Originally from New York, she spent most of her life moving up and down the east coast. She started transition at 20 years old while attending Rensselaer Polytechnic Institute, where she studied computer science and cognitive science. She currently is a member of Secular Woman's advisory council, primarily consulting on queer and disability related issues.
Marti Abernathey
Marti Abernathey is a trans activist, political strategist, and trans media pioneer. She has been a grass roots organizer on the state and national level and has organized the Indianapolis Tax Day Protest, The Indy Pride HRC Protest, Indianapolis Transgender Day of Remembrance, Indiana's Witch Hunt, Rally At The Statehouse and the Madison 2011 Transgender Day of Remembrance.Abernathey was a member of Barack Obama's LGBT Steering and Policy Committee, and the founder of the Transgender sub-committee. She was Indiana's first ever transgender delegate to the DNC in 2008, also co-organized the 2008 Indianapolis Obama Pride, and was an invited guest at the 2009 Presidential Inauguration and the 2011 White House Pride Month Reception.

Abernathy was also a co-host on trans media programs such as Trans-Sister Radio Live!, The T-Party, and the Radical Trannies/Sodium Pentothal Sunday and is probably best known as the founder of the Transadvocate, and former managing editor (2002-2013).
Marian Melby Aanerud
Marian "M. A. Melby" Aanerud was born on a farm in rural Minnesota.  She studied physics and music as an undergraduate and applied physics and computer music composition at the graduate level.  After teaching college-level integrated science and physics in Flint, Michigan for seven years, she accepted a position teaching physics within a health sciences program in Minnesota.In college, Melby was highly involved in student government and served as the Minnesota State University Student Association Cultural Diversity Representative from her campus.  She currently blogs at Sinmantyx and Secular Woman Salon. She was a panelist during FtBconscience2 and FtBconscience3.  She is published in Atheist Voices of Minnesota: an Anthology of Personal Stories. She is active ontwitter and serves as a Block Bot admin.  She was the lead author of thechange.org petition presented by Secular Woman, asking the Southern Poverty Law Center to list Gender Identity Watch as a hate group and is a contributor atThe TransAdvocate.
More details added as we progress!